Meet Our Certified Professional Dog Trainer Instructors!
All courses are booked through AZ Dog Sports training desk at 602-237-6775.

Darcy Rohats
CCPDT-KA, CGC Evaluator
Darcy is a longtime dog trainer with experience that includes teaching with the SPCA of Texas and private kennels in Texas. She was involved with the Texas Kennel Club, Petco, an Agility Club and the last 5 years with AZ Dog Sports. Her professional experience includes standup training and Training Director responsibilities for a large retailer. Darcy has attended numerous seminars by top name dog trainers and holds a Bachelor's from University of North Texas. She has earned numerous titles on her dogs in Conformation, Obedience and agility venues. In addition she is a member of APDT, an AKC Canine Good Citizen administrator and holds her CPDT – KA certification

Michael Brand
BS, CCPDT-KA
Michael has been a lover of dogs since he was four years old.  His first dog was an American Eskimo called Freeway, so named because the dog was rescued from a freeway in San Francisco. Freeway was one tough cookie, who provided Michael his first, early lessons in understanding the complex needs of dogs, from the reactive and unsocialized to the easy-going and gregarious.  Early work as a pet sitter and dog walker fueled Michael's commitment to learn as much as possible in the field.   As his interests and involvement with dogs grew, he studied for and obtained the CPDT-KA (Certified Professional Dog Trainer) certification from the Certification Council for Professional Dog Trainers.
Michael was the General Manager of AZ Dog Sports, working closely with clients to learn their needs and then prescribing appropriate training classes.   As a principal trainer for Zen K9, Michael worked with dogs on everything from basic obedience to aggression.  These experiences greatly increased Michael's practical knowledge of canine behavior and his ability to "speak dog."  Michael enjoys working with and educating owners, helping them to understand their canine friends.  He is actively involved in developing workshops on subjects important to pet owners and is often called upon to consult with dog-centric businesses to develop protocols for assessing canine temperament.  Michael lives in Phoenix, Arizona, with his wife Danelle and their two daughters.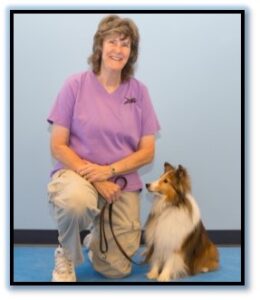 Karen Burleson
CGC Evaluator, APDT Certified Member
For the past ten years Karen has been training dogs of all breeds and experience levels and she is a Certified Master Trainer. She has experience working with reactive dogs, teaching agility and obedience at all levels. Karen's German Shepherd has titles in Rally Novice, Advanced and Excellence, along with receiving her Canine Good Citizen certification. Her Sheltie and enjoys Agility for fun and she is a certified Therapy Dog. As a trainer working with various companies and private clients Karen has had the opportunity to work with hundreds of dogs and feel that each dog learns differently and no one method is perfect for all dogs- training needs to be flexible for the dog and owner. Her goal is for no one to give up on their dog.

Debbie Nichols
Trainer, CCPDT-KA, CGC Evaluator, Service Dog Trainer
Debbie has been working with dogs her entire life. Her love of dogs started early on with 4-H, then as Vet-Tec and as a shelter manager, in L.A., Las Vegas, and Maricopa County. Debbie's passion for working with dogs introduced her to the sport of Agility. Her love of Agility is one of the reasons she teaches her favorite leisure past time at AZ Dog Sports.
Debbie has been an instructor for Contact Zonies Agility Club since 2006, when she was training her own competition dog. She teaches foundation, novice, and competition Agility. Her creative courses are now part of our indoor venue all year around. In her spare time, Debbie also fosters many rescue dogs for Boxer Love Rescue and has fostered and trained over 30 dogs in the last 10 years for that organization. Debbie provides basic obedience and level 1 training as part of our Board and Train program, where the trainer houses and trains the dog over a 2 to 4-week period. This is a great way to have your dog develop the practical obedience and manners that most guardians would like for their pets.
Debbie is a Realtor by vocation and loves living and training in her space designed for dogs to have fun and exercise in her own spacious home venue, including outdoor agility field! She also shares her passion for clean living with her dogs and has educated herself in raw feeding. In addition she has interests in Natural/Homeopathic care for them as well.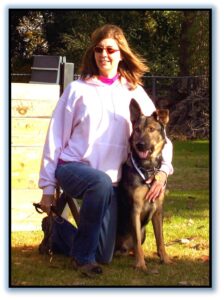 Lynn Brand
CGC Evaluator, BS Southern Methodist University
Lynn has been actively training companion dogs at AZ Dog Sports for five years at all levels of Obedience as well as all levels of AKC CGC titles.   She is an AKC CGC Evaluator up to the AKC Urban Canine level and the AKC STAR Puppy program, and also an APDT Professional Member.  She began training German Shepherds in the sport of Schutzhund in 1997. She has taken her dogs through all phases of this sport including the IPO3 level and tracking titles. Her dogs also have their CGC (Canine Good Citizen) certificates. She is an active member of the Phoenix Schutzhund Club and currently Club president.  She believes it is important the handler and the dog form a strong bond of trust and love from the beginning and she tailors her training to fully developing this bond through positive reward and reinforcement. She believes it is important for you and your canine friend to enjoy being together by having a dog who is fully under control and a joy to be around.

Monika Walec
AKC CGC Evaluator, APDT Affiliated, Behavioral Trainer
Monika has been actively working with, training, and devoting her time to improving canines since 1998. She is a professional member of APDT (Association of Pet Dog Trainers) and a certified AKC CGC (Canine Good Citizen) Evaluator. She is committed to turning difficult situations into the most effective and convenient solutions for her clients' dog training needs. Her passion is working with reactive canines by creating structure in the family environment and strengthening the relationships of pets and owners.Monika avidly pursues continuing education and professional development including teaching at AAEC that offers a 4-year youth program.  Monika also teaches Treibball, Scentwork & AZ Dog Smart Academy courses for advanced behavioral training and equipment.  When she is not helping clients enjoy better lives with their canine companions, Monika competes in AKC Obedience, Rally Trials, and French Ring Sport.
Julie Davis
Certified Professional Dog Trainer from AZ Dog Smart Academy, AKC CGC Evaluator, Trainer and Academy Instructor with AZ Dog Sports and AZ Dog Smart Academy, APDT Member
Julie graduated from AZ Dog Smart Academy in 2020 with a certification as a professional dog trainer, but her career with animals started much earlier.  She actually started at nine, in 4H with her Collie, Pepper.  She was a puppy raiser in 4H for a local guide dog school in Ohio.  From there she then went on to be hired as a guide dog apprentice trainer at an accredited school in Ohio; where she taught dogs and students how to maneuver life as a team.  Julie was also a nationally certified veterinary technician working on small and large animals in a number of states around the country; she has worked and trained thoroughbred race horses in Ohio and Kentucky, been a therapy team with her dog Fenton, and worked as an assistant manager at a small animal veterinary clinic in Georgia.
Julie is a veteran from the Ohio Air National Guard.  She has a passion for building better relationships with dogs and their owners, focusing on positive training approaches that are fun and educational.  She brings a wealth of knowledge and skill to her clients, allowing them to grow and learn, along with their dogs.
Julie enjoys teaching a variety of classes like manners, basic and advanced obedience, shaping, tasks, service dog, therapy dog, public access, Canine Good Citizen, and is building her exposure and experience in scent and nose work.
Our next Dog Trainer Course is starting soon!
Learn how to become a dog trainer — and start that NEW career you will LOVE!!
Save
Save